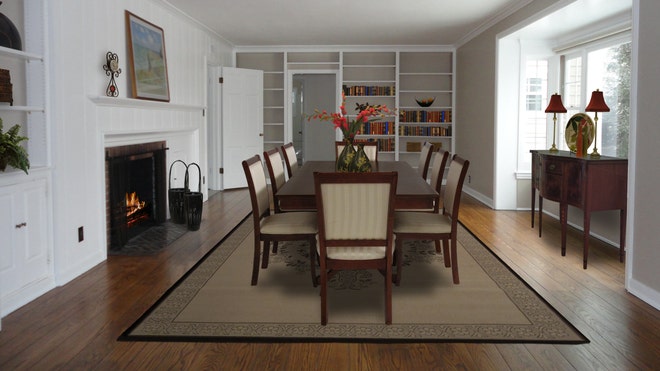 By Chaya Goodman Kurtz
Listing your house online requires more than just posting pictures or posting it on a local real estate website. For
many home buyers, the first contact they have with a potential property to buy is the online listing. The photos need
to be enticing, to say the least. Enter Virtually Staging Properties
, a pioneer in the field of virtual home staging. I
initially made contact with Krisztina M. Bell, the director of Virtually Staging Properties, on Hometalk.com
, a
social network totally dedicated to home and garden projects. Krizstina posts almost daily home selling and home
staging tips on Hometalk, and I was totally impressed by her level of professionalism and expertise. She
graciously agreed to an interview. Read on to learn how virtually staging your house could be the thing that sells it
fast and at the asking price.
Q: What is Virtual Staging?
A: Virtual Staging is a service we pioneered to help owners of vacant "for sale" properties best present their homes
to potential buyers, via the Internet; which is where according to the NAR (National Association of Realtors) 90
percent of potential home buyers start their home search. We work with actual photos of a vacant home, and
"virtually" stage them by adding attractive and appropriate REAL furnishings (Patent-Pending process) into the
photos, so the online pictures of the home are more understandable and help create a connection with the
potential buyers. When buyers view the virtually staged home online, they can envision themselves living in the
home, so they are much more likely to want to go view it with their agent in person.
Q: Is Virtual Staging less costly than hiring an in-person designer?
A: Virtual Staging is primarily designed to assist in the sale of vacant homes. Traditional staging entails moving
furniture in and not only does the homeowner have the cost of the designer (or professional stager), but they also
incur the cost of renting the furnishings as well. Traditionally staging a vacant home is not an inexpensive
proposition; however as traditional stagers ourselves we know the benefits almost always outweigh the costs.
Virtual Staging costs range from just $225 to $325, or around 10 percent of the cost of traditional staging.
Additionally, Virtual Staging is a one-time charge, if a traditionally staged home doesn't sell quickly, furniture rental
costs continue to accrue monthly, potentially costing sellers thousands of additional dollars.
Q: What about when buyers come to see the home in person?
A: We brand each photo that we virtually stage with our web address and require that our clients disclose the fact
that certain photos of the home have been virtually staged wherever the staged photos are used. In our view,
Virtual Staging actually offers the buyers the best of both worlds. They get the benefit of seeing the potential of a
home online (and in person if the seller orders our mounted enlargements option), and when they view the
property in person, there are no rugs, furniture, wall hangings, etc that might distract the buyer from reviewing the
complete house. We would also suggest that virtual staging is no different than the seller/agent using photos of
the home when it was occupied, after the owner has moved.
It is our policy to not edit the underlying photo or property. By this, we mean that we will not change wall colors,
floor coverings, add appliances, etc., nor will we cover up or "repair" damage that might be evident in the photos.
Q: I first found you on Hometalk.com. How has Hometalk.com helped you to make your business grow, and
how is your presence on the site helping Hometalk members?
Hometalk
has been a great social media community from the start for us since its focus is more about house
and home. We like the friendly community that is serious about making the inside and outside of their home living
better. We found it to be a great avenue to spread the word to homeowners as the majority of our mail marketing
and presentations are more geared toward agents who really are the bread and butter of our business. But as a
business you have to tap into all the sources of potential clients and Hometalk does just that and we have been
amazed at the support and enthusiasm we have received from Hometalk followers and pros.
Our service is helping not only agents but also sellers market their homes for sale in a more economical way that
will always still be classified as home staging but with a new tech savvy twist. We have also noticed an increase in
our Web traffic over the past year since joining Hometalk, even getting phone calls from agents and sellers who
were curious about our service. Also, it was Hometalkers that kick started our "Likes" and fan base on Facebook
as they enjoy our photos of rooms in homes that give them great staging ideas and design ideas for their home
even on a budget.
As professional home stagers we have also been able to provide Hometalk followers with our home staging tips,
secrets and even some occasional interior design ideas because in real estate it is all about how you market your
home, whether its to sell it to potential buyers or live in it in a more organized fashion to show off to your friends.
Overall, we are thrilled to be a part of the growth of the Hometalk community and will continue to bring its followers
the latest trends in staging and design tips and ideas for the home via our Hometalk profile
.
Q: Can you name some success stories?
Yes, in fact that is exactly what we call them, Success Stories. Many of our clients have written us to let us know
that their listings have sold and that our Virtual Staging made a big difference in both buyer traffic and days-on-
market. Some of these Success Stories can be found on our website.
Here are a couple of quotes from a few of our Success Stories:
Annmarie D., an agent with Prudential Connecticut says, "I had the property listed for just one short week and it
produced 4 offers for full price!"
Catie M., a Top Agent with Long & Foster says, "We work with investors who renovate homes and having the vacant
photos of the property virtually staged really helps sell the home fast and adds to our investors' return on
investment…a double positive for everybody!"
Sue M., a Broker and Agent with Re/Max of Naperville (Chicago suburb) listed a condo in a community where 60-
plus condos were already on the market. "My condo was vacant and I had 3 virtually staged photos done by VSP,
which I added to my virtual tour," she says. "Within 5 days, the condo was under contract, beating out all others
that were in the same price range!"
Q: When should Virtual Staging be used versus traditional staging?
A: We developed Virtual Staging to offer customers around the country a less expensive, yet highly effective
alternative to traditional vacant home staging. If cost is not an issue, traditional staging is an outstanding tool to
market and sell a vacant home. However, if cost is a consideration, Virtual Staging is without a doubt the best
approach for marketing a vacant home, offering most of the benefits of traditional staging, at just a fraction of the
cost.